Patient Testimonials
Richard L.
I'm 52 years old and six feet tall. One year ago I weighed 423 lbs with a BMI of 57.4. I had high blood pressure, high cholesterol, sleep apnea, end stage osteoarthritis of the left hip, and at risk of developing Diabetes. Today I weigh 225 lbs and my BMI is 30.5. All of my co-morbidities have been resolved. This is all thanks to the VG I had with Dr. John Rabkin at PACLAP, in July 2009, just 7 months ago.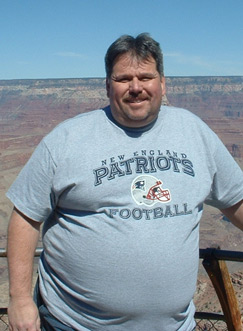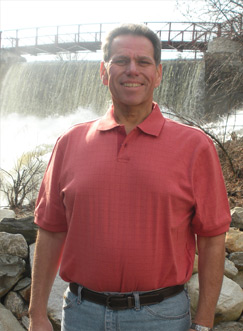 In February 2009, an orthopedic surgeon told me my only option for my osteoarthritis would be a total hip replacement. He also told me that he wouldn't touch me until I was less than 300 lbs. Weight loss surgery was suggested. Initially I was resistant but I knew I had to do something. Exercise was impossible because of the hip pain and dieting alone wouldn't be enough. I required something that would get the weight off fast and help me keep it off long term. I began researching surgical weight loss procedures. I found the Pacific Laparoscopy (PACLAP) Website. I viewed their online Informational Seminar and read the stories of patients who had been helped by Dr. John Rabkin.
In May 2009, I flew to Chicago to attend PACLAP's Monthly Informational Seminar / Support Group Meeting. Dr Rabkin answered my questions and explained the realities of all the surgical weight loss procedures. He let me know what I could realistically expect in terms of excess weight loss, success at keeping it off, reversibility, resolution of co-morbidities and lifestyle changes. Later that evening I joined the PACLAP Support Group Meeting in progress. I met people who had similar stories to my own. They were supportive and encouraging. I made the decision to go forward with Weight Loss Surgery that night.
I returned to Massachusetts and told my PCP that I was ready to proceed with weight loss surgery. He was pushing the Adjustable LAPBAND. I asked about the Laparoscopic Duodenal Switch (DS) and the Vertical Gastrectomy (VG). He wasn't aware of any surgeon in or around Boston who performed them. He also told me that my Health Insurance might not cover those procedures. After weeks of research I discovered that I couldn't get either the DS or VG procedure in Massachusetts. I decided to go with the Laparoscopic VG, Dr. Rabkin and PACLAP. I felt that this was the best bariatric procedure for me. I called PACLAP and in less than two months from the time I first met with Dr. Rabkin in Chicago, I was scheduled for surgery.
On July 9, 2009, I had the VG. I weighed 396 lbs. During my surgery Dr. Rabkin removed my Gallbladder which was full of gallstones and would only become problematic later in life. He also repaired two hernias that I didn't know I had. I had zero complications both during and after surgery. My stay at St. Mary's Medical Center was short and sweet. I was released the day after surgery. The nurses and staff at St. Mary's were wonderful. Initially I was a self pay patient but my insurance covered the cost of those unexpected yet necessary procedures. I'm still fighting with my insurer to cover the cost of my hospital room.
On January 6, 2010, I had my hip replaced. I weighed 250 lbs. I had dropped 146 lbs in less than seven months. I did everything Dr. Rabkin and the staff at PACLAP told me to do. I couldn't believe how fast the weight came off. I'm now five weeks out of hip surgery and hopefully on my way to a complete recovery. Since my hip surgery I have lost another 25 lbs.
While I may never be the "BIGGEST LOSER" at PACLAP, as they have helped people who have been much larger than I was starting out, I'm hoping to become the PACLAP / VG poster boy. I still need to lose another 42 lbs before I hit the high end of the normal BMI category. Dr. Rabkin has encouraged me to go as low as I can within the window of weight loss opportunity.
I cannot say enough about Dr. Rabkin and the entire PACLAP staff. They are incredibly knowledgeable and helpful in all matters, be they, medical, insurance related, or logistical, especially for an out-of-towner like me. I can honestly say that for me, the cross country trip to PACLAP in San Francisco has been life altering. It has proven to be worth much more than the money it cost. It has significantly improved my health and my outlook on life.
---