About Us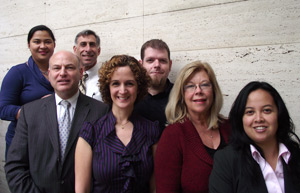 Our Mission
Our goal is to expand awareness, acceptance and understanding of the surgical treatment of morbid obesity, to encourage and facilitate ongoing support groups for patients and family, and to promote the further development and refinement of advanced laparoscopic surgical technique.
Our Experience
We have more than 30 years of cumulative experience with innovative bariatric surgical procedures. We began in 1979 with gastroplasty, a purely restrictive procedure, and were among the first gastric bypass surgeons in San Francisco. In 1984 we introduced a "hybrid" procedure combining moderate restriction of food with moderate malabsorption. A refinement, the duodenal switch (DS) bariatric surgery procedure, has been our primary procedure since 1993.
We developed and performed the first laparoscopic duodenal switch procedure in 1999. The laparoscopic technique allows for a quicker recovery time, less pain, and minimal scarring. We are one of the few programs worldwide to offer this technique. Laparoscopic surgery is now recommended instead of open laparotomy, and our series of over 1500 patients currently includes more than 1200 laparoscopic DS procedures. We also take a special interest in revision surgery when older bariatric procedures have resulted in weight re-gain or other complications. We have converted more than 70 of these patients to the DS with excellent results.
To learn more about what sets us apart from other weight loss practices in San Jose, Oakland, San Francisco and throughout the Bay Area, visit the following pages:
Patient Photos

View our real patient photos and get inspired by the life transformations our patients have undergone.
Travel for Surgery

We can help you to make your weight loss dreams a reality, no matter where you live.
For those who do not qualify for lap DS, or prefer alternative bariatric procedures, we offer laparoscopic vertical sleeve gastrectomy (LAP VG) and laparoscopic Roux-en-Y gastric bypass (LAP RGB), as well as a laparoscopic adjustable gastric band. In addition, we offer post-weight loss procedures such as hernia repair and plastic surgery after weight loss, including tummy tuck (abdominoplasty), thighplasty, total body lift, arm lift (brachioplasty) and breast reconstruction.
We perform surgeries at St. Mary's Medical Center, California Pacific Medical Center and El Camino Hospitals located in and around San Francisco.
---
To learn more about Pacific Laparoscopy, click here to request a consultation with Dr. John Rabkin, or you can call our office at 415-668-3200 to schedule your appointment.