Revision Weight Loss Surgery
Revisional bariatric procedures can be performed when a previous weight loss procedure results in inadequate or excessive weight loss or has led to complications. We perform revision weight loss surgery at our San Francisco practice for the approximately 5-10% of bariatric patients who need their initial gastric bypass or LAP-BAND® surgery in the Bay Area altered or repaired.
Shirley's Revision Surgery
"In July 2000, I had Vertical Banded Gastroplasty, an open surgery and my choice at the time. Initially, I lost weight quickly but it slowed down and it took me more than 2 years to lose 140 pounds. Not long after, the tide turned and the weight started to come back. I was gaining weight and slipping backwards. I had re-gained about 60 pounds before I decided to contact Pacific Laparoscopy." Read More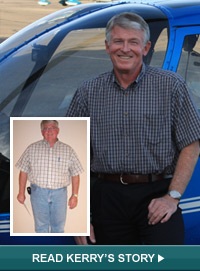 When Is Revision Necessary?
Dr. Rabkin performs revisional bariatric surgery in San Francisco for patients who have experienced complications from their initial procedure, including:
Poor weight loss or significant weight re-gain
Chronic nausea and/or intolerance of the previous bariatric surgery anatomical reconstruction
Ulcers, band slippage, or other procedure-related complications
Excessive weight loss or nutritional deficiencies
Simply being dissatisfied with your weight loss after surgery does not necessarily qualify you for revision surgery. However, if you are still 80-100 pounds overweight, suffering from serious weight-related health concerns, or are having difficulties from your initial weight loss surgery, you may be a candidate.
Learn About Revision Weight Loss Surgery and the Duodenal Switch
Discover the benefits of revision weight loss surgery with a conversion to the duodenal switch in this informational webinar with Dr. John Rabkin
(53 minutes).
Patient Photos

View our real patient photos and get inspired by the life transformations our patients have undergone.
Travel for Surgery

We can help you to make your weight loss dreams a reality, no matter where you live.
The Procedure
Unlike the other bariatric procedures Dr. Rabkin performs, most revisions are performed as "open" procedures (as opposed to laparoscopic). Revisions are complex, and due to their more extensive nature, tend to have a higher risk of complications. However, when performed by an experienced bariatric surgeon, they have a very good success rate.
---
If you would like to find out more about bariatric surgery revision in the Bay Area, click here to request a consultation with Dr. John Rabkin at Pacific Laparoscopy. Or you can call our office at 415-668-3200 to schedule your appointment.