What Causes Morbid Obesity?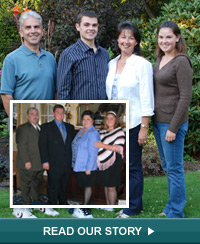 Obesity is a highly misunderstood condition which can cause those who suffer from it both mental and physical anguish. In some cases, two individuals will have similar diets and lifestyles, yet one is obese and one is not. When we treat obesity with surgery at our San Francisco Bay Area practice, we keep in mind the myriad of physical, environmental, and emotional contributors to obesity.
Obesity results from a combination of factors including genetics, emotional trauma, environmental influences, and poor dietary habits. Actually, excessive food intake is only one small part of the obese person's dilemma. A more important factor may be the complete absorption of food eaten, along with the efficient storage of these "extra" calories as fat. Decreasing physical activity may also contribute to continuous weight gain. This cycle is often established early in life and usually is not due to glandular disorders. Since the pattern of food processing by the body has a genetic basis, multiple members of a family may become obese.
Patient Photos

View our real patient photos and get inspired by the life transformations our patients have undergone.
Travel for Surgery

We can help you to make your weight loss dreams a reality, no matter where you live.
For many of our morbidly obese patients in the San Francisco, San Jose and Oakland area diet and weight control programs have proven unsuccessful time and time again. Often, the frustration of repeated failed attempts at weight loss can result in even further weight gain. At Pacific Laparoscopy, we can help you to finally break this cycle, and regain control of your weight and your life through weight loss surgery near San Jose at our San Francisco center.
---
To learn more about obesity and resolving the numerous health problems it causes, click here to request a consultation with Dr. John Rabkin at Pacific Laparoscopy. Or you can call our office at 415-668-3200 to schedule your appointment.